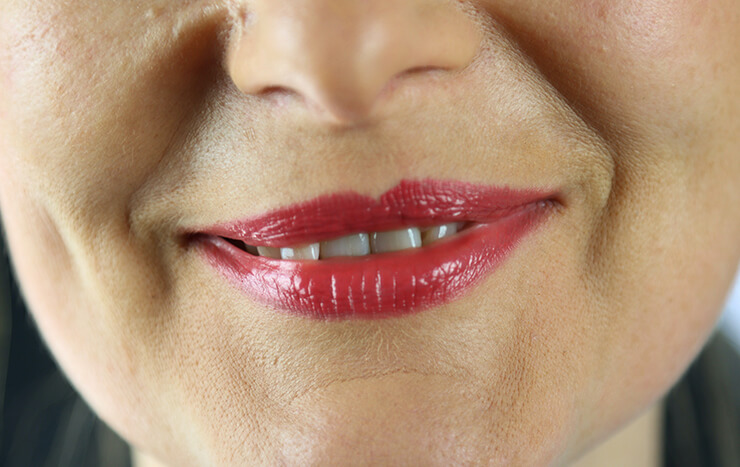 Bold lips practically kicked you in the eyes all over the 2013 Fall runways – from matte reds to rich burgundies, the fashion world made one thing clear – this Fall is all about the romantic, wine stained lip favored by rockers and modern, chic fashionistas alike. Two of our favorite bold fall looks were the easy-to-wear Rouged lips and the darker, edgier Rouge Noir lips. We thought these two looks were especially interesting because of how easy it is to go from one to the other, simply with an extra swipe of lipstick. Here is how you can go from Rouged to Rouge Noire in just a few simple steps:
Rouged Lips
The idea behind this look is a simple, 1940's inspired stain. To start off, make sure your lips are nice and moisturized by priming with your favorite lip balm a few minutes before applying any color to your lips. (noya lip balms are both hydrating enough to pull off this look and lightweight enough to act as a great base! That's a self-promoting tip, we know :) )
Using a clean fingertip,lightly dab on your favorite wine or burgundy lipstick (the darker, the better!) For extra staying power, dab your lips on a tissue and repeat the step. The lips should look flushed, without any harsh edges or lines.
Another take on this look would be similar to another on-trend look – the ombre effect. Repeat the above steps, but instead of applying the color all over the lips, leave the center bare. After you complete the application, clean up the center with a clean q-tip. This is look is subtle enough for daytime, but is romantic enough to make a great, kissable date-lip.
Rouge Noir
We just love looks that can transition from day to night, or in this case from Rouged to Rouge Noir! To do so, start of by staining the lip with the method described above, and then add on a thicker layer directly from the tube to the lips, being careful to go all the way to the very edge of the lip. This will achieve the more Grunge-inspired edge that the Rouge Noir takes its cue from as well as create the illusion of super plum puckers!
Once you've applied a generous layer of lipstick to your lips, go around the edges with a matching plum lip liner to create super defined edges to the lip-look and to insure that the lip stick won't feather throughout the night. If you're feeling extra daring, use a dark brown or black liner for that super vampy look :)
We love how easy this look is to take from daytime appropriate to nighttime chic.The burgundy family of lipsticks is one of those iconic, autumnal colors that is sure to stay in-fashion for years to come, so if you haven't already, we would highly recommend adding one to your collection this fall. Let us know what your favorite 2013 lip trend is, and as always, live divinely.