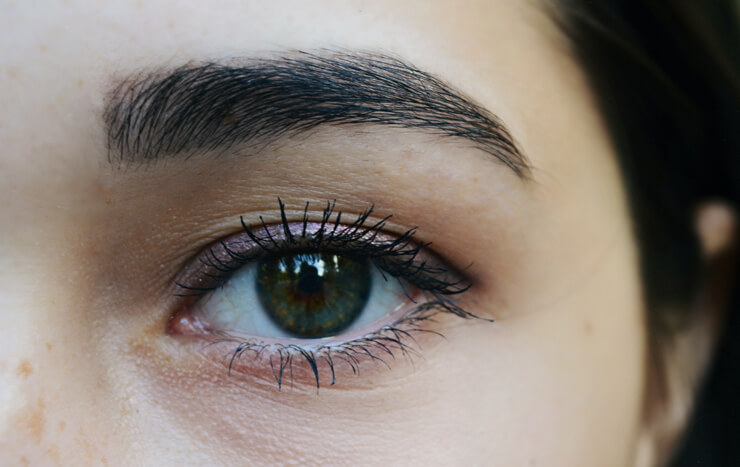 Taming hair is an essential part of physical maintenance, and eyebrow hair is no exception. In the era of 'fleeky' brows the right pair of sisters below your forehead can make or break your look and pockets! A clean cut brow, customized to accentuate your facial features, can shave years off your age, brighten up the face, and limit daily makeup usage. Like any hair on the human body, eyebrow hairs vary in length and texture, and they're often at odds with what might flatter your facial features.
So what do we do when that stubborn unibrow or bushy shape just isn't manageable or appealing? Typical eyebrow maintenance involves waxing, threading, and plucking weekly to bi-weekly based on your rate of hair growth. Achieving the upkeep of a perfect, polished brow can be time consuming, and, depending on the thickness of your brow, makeup contouring cannot always save the day. If you're not a professional this eyebrow epidemic can get hairy quickly!
Temporary forms of hair removal (waxing, threading, plucking, laser) can be desirable when you're unsure about the perfect brow to shape your face. But let's say you have gotten the best eyebrow wax of your life and wish your brow could just permanently look that way. This can be tough to achieve, because varied taste and technique make it difficult to achieve a consistent shape, particularly if your brows aren't always done by the same person.
Nios Permanent Hair Removal Center can help you achieve permanently perfect brows by using electrolysis instead of an impermanent hair removal method. Electrolysis permanently destroys hairs by gently delivering a small amount of heat to the base of the hair follicle through a very fine, flexible probe. Electrolysis is the only proven and safe way to permanently remove hair – there is no other hair removal system that can claim to be as effective. Not only can electrolysis spare you the hassle of dealing with pesky eyebrow hairs blemishing your face, it can save you time, money – and concealer! Of course, eyebrow shaping is not as simple as removing hair; first, you need to determine which eyebrow shape is right for you. This depends on a number of factors, like the shape of your face and the growth patterns of your eyebrow hair. For that reason, our electrologists' expertise extends to hair shaping as well. Before any hair is removed, they'll help you determine the eyebrow shape that works best for your face and personal style, whether you're looking to balance a long face with a straighter brow or give eyes a "lift" with a more dramatic arch.
Nios' electrologists have all either passed or are working towards their Certified Professional Electrologist (CPE) certificate, which certifies that an electrologist's knowledge and ability has been measured against a national standard of excellence. Our commitment to these high standards drove us to train for this program even though it is not required by New York State (and, for that reason, there are only a handful of these practitioners in New York). Once certified, our electrologists continue their training and evaluation to ensure that they consistently exceed both CPE and NYS requirements. Schedule a free consultation to meet with a member of our highly skilled team and learn more about how electrolysis can help you achieve your hair removal goals, from perfect brows to beards and beyond!